M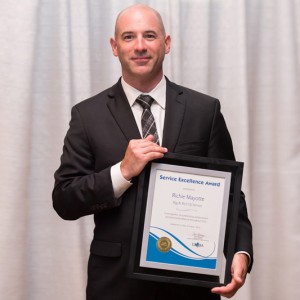 y recent nomination for a Bell Excellence Award is very important to me and I am thankful for this.
The nomination was in the category of Hospitality and Service Excellence.
Winners were announced during the Bell Business Excellence Awards Gala on May 11th, 2017, at the Caruso Club.
---
Customer service is vital to my business because it is through this that clients, guests, and the public will remember me.
People want to experience a lasting relationship, to actively participate, and to know without a doubt that their wishes or concerns are heard. This will reflect heavily on my business and create opportunities for past clients to refer me to others.  This award nomination is without a doubt a reflection of these referrals.
On my website clients can find many testimonials about my customer service.
For example: "The whole experience working with DJ Big and Rich was fantastic from start to finish! Nothing but good things to say, and (am) very grateful. That was one thing I did not have to worry or stress about leading up to and during our wedding. Highly recommend him!"—Tonya
Good customer service is also great for marketing. With information at our fingertips through social media and the Internet, people like to read reviews and find out others' past experiences with a business. Showing that you care about your clients also enhances your professionalism and their attitude towards you. I send all my wedding clients an anniversary card every year as a way to show I appreciate that they chose my service. It is this kind of personalized customer service experience that is important to my business.
The
goal of my service is to exceed client expectations.
This is critical because it determines if they are satisfied with my performance and if they will refer me to other potential clients.  Keeping a client satisfied starts with meeting their expectations, then going one step higher and providing them something they didn't expect. As an example, creating a memorable moment at their wedding reception (Audio Edit), then sending them an anniversary card one year later (Send Out Cards), reminding them of how magical that moment was.
How my service is measured: My service is measured through a program provided by the Canadian Professional DJ Association. It's called the Service Excellence program. It encourages you to achieve the highest level of service to consumers. CPDJA members that surpass standard levels of service can be recognized by our organization with Service Excellence Awards. To participate in this program, I provide a Service Excellence brochure to each client and ask them to complete and return it by mail, or complete a web based version of the survey on the CPDJA website. This allows me to measure satisfaction, improvement needs and overall customer expectations.
Thank you for the nomination, and thank you to everyone I've ever had the pleasure of doing business with. I am grateful for the nomination. I wouldn't have received this nomination without you. Rich in dreams, Rich in memories, Rich in music