With Wedding season just ahead I've been meeting with my clients to discuss their vision of how the reception will proceed.  Their are many different acts that take place in the production of a reception.  These working agendas help form a timeline that your guests will follow from start to finish.
---
For this blog, I'd like to describe the three different wedding agendas listed below.
Entertaining guests after a wedding ceremony is traditional in most societies, and can last anywhere from half-an-hour to many hours or even days. A receiving line is an example of one formality that is traditional but has lost favor in recent years.  Other events to consider are kissing games, centre piece giveaways, sock/money dances or a video montage/slideshow.
I have three North American Style agendas that I like to follow: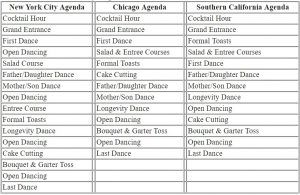 NY Style con: not common in Canada, and venues don't like serving while guests are not at their tables.
NY Style pro: it's different, allows guests to mingle throughout dinner, avoids waiting
Chicago Style pro: this is similar to traditional Canadian weddings, allowing all eyes to be focused on you during the first dance.
Chicago con: there is a long wait after dinner during toasts, with no entertainment or dancing until after dinner service.
Cali Style pro: speeches are completed before dinner.
Cali con: there is no entertainment or dancing until after the dinner service, and guests have less interest during formal dances (first dance etc).
The basic schedule for weddings is as follows: ceremony at 4 p.m., cocktail hour from 4:30 p.m. and 5:30 p.m., dinner from 5:30 p.m. and 7 p.m., all leading up to the party from 7 p.m. to 12 p.m. or later.
No matter what is going on at your wedding, no matter the band, the DJ, the dancing, the games, the amount of fun, the entire day can last up to 10 hours. Even though I know that, I still try to build in a space of time which allows for special circumstances. That way, I'm prepared for those instances, even though they may or may not occur.
A wedding timeline is only a guideline and nothing more. Don't get too worked up about it, allow for necessary changes to be made. Follow a timeline but be flexible, and use a timeline that best fits you, feels natural, feels secure but fun at the same time. Weddings are your day, and timelines are blueprints to helping your wedding unfold as you'd like it to. Rich in dreams, Rich in memories, Rich in music